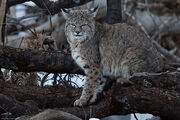 Ironfang is the main villain of The Four Elements of Bending. He is a bobcat.
Ironfang was born at the Bending Tower, not at the Fire Nation. When he became a full bender, his parents died. Airwing, who was leader at the time felt bad for Ironfang and made him deputy. Later, Ironfang threatened to kill Airwing and ran away.  Ironfang became leader and toke his wrath out on the Bending Tower. Goldwing found Airwing and he told him how to stop Ironfang. Goldwing went to the bending tower and then battled Ironfang. When Goldwing won, Ironfang was exiled and moved to the Fire nation as the new leader.
Ad blocker interference detected!
Wikia is a free-to-use site that makes money from advertising. We have a modified experience for viewers using ad blockers

Wikia is not accessible if you've made further modifications. Remove the custom ad blocker rule(s) and the page will load as expected.